NJ Squirrel Information
Outside in the park squirrels might seem cute and cuddly from a distance, but having one inside your residential home or business might lead to damages to the housing structure, opens up your home or business to potential diseases & animal attacks, as well as repairing the damage the squirrels can cause once inside your home.
Holes inside the wall
When the cold weather comes around squirrels will look for warm nests for the winter. They may chew into your walls, damage your roof to get inside the attic, cause damage to your yard, and create the chance of encountering one inside your kitchen looking for food.
Electrical Problems
Once inside the walls, the squirrels can begin to clear the area for their nest. Squirrels can chew on the wiring and short circuit outlets or important electrical equipment inside your business or home. Prevent squirrels from entering your home with our Squirrel prevention services and equipment.
Leaving Trash & Debris Behind
Squirrels will collect food and bring it to their nesting area, which in this case can be your home or business. This can pile up and create structural problems within the walls. Squirrel's feces is also a problem to consider, it can create mold and stains inside the wall.
Yard Damage is something to also consider. Squirrels will uproot your plants looking for food to feed themselves or their young. They can dig up your lawn looking for nuts or seeds or burying their acorns for the winter. Squirrels are also known for invading bird feeders. By forcing themselves into the bird feeder container can causes damages to the object and create the possibility of damages the structure the bird feeder is attached to.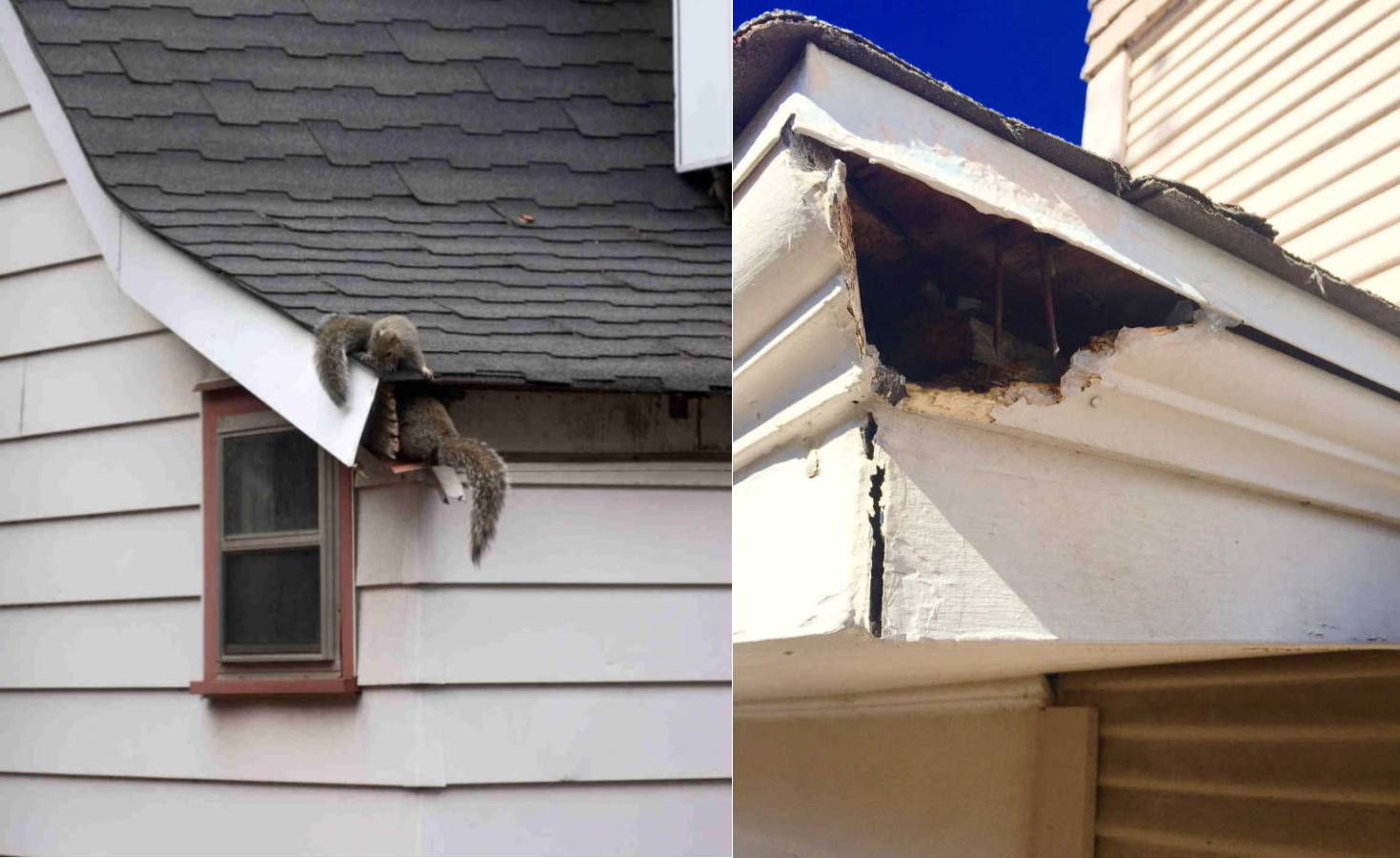 Our Squirrel Removal Services Entail
Animal Trappers New Jersey has trained professionals who will remove the squirrels from your property and repair the damage as needed.
Animal Trappers NJ
Animal Removal & Damage Repair
Removing the wildlife that have nested in your home or office is only part of the process of dealing with an animal infestation. After animals are gone, the damage they caused prior will continue to impact your home, putting both the structure and your family at risk. Animal Trappers NJ remove the remains of an animal invasion, safely taking out droppings, contaminated materials, ruined pipes and wires, and other evidence of the infestation. Then we replace elements, bringing your property back to its former state before animals invaded.
Our New Jersey Animal Trappers are experts at removing wildlife from your home, repairing wildlife damage, and preventing wildlife from entering your New Jersey home. Give us a call today!
Contact Animal Trappers New Jersey
Request a Free Quote today!
[contact-form-7 id="1180″ title="bottom-page-contact"]
Animal Trappers New Jersey Services
Address: 62 E. Main Street Freehold NJ 07728
Animals We handle
Animal Damage Repair
Solar Panels Protection
Attic Restoration
Garage Area
Roof Repairs
Gutter Installations
Home and Office Proofing
Protect your home from invasive wild animals that can damage your property, let Animal Trappers NJ help you remove, repair and prevent future incidence.